There's just something about magic. It leaves the childlike mind stumped, a teenager amused, an elder surprised, trying to find logic behind it. But that's the thing about magic you see, it may not make sense always. My take on some things magical for WOW by BlogAdda.
Image: Google
***
The wind chimes sing
With the passing breeze
A child looks In wonder
Magic, it seems.
***
She sprinkles glitter over her bed
Magic dust it is, Ma had said.
Wishes and prayers do fairies hear.
Bring back my Ma, she prays in bed.
***
The rabbit was found
Under the magicians hat
Perhaps Alice
Fell down the wrong hole.
***
She was my magic
I, her slave.
A whiz with her wand,
I vanished away.
***
Fairies and gnomes
Pixies and combs
Petals and light
Flowers pure white
Beckons A mystical world
Dreams and magic unfurled
***
The very first look,
A mother is born
What greater magic?
***
Touched my heart
Without touching me at all
It's magic, I'm sure.
***
There was something about her
I can't put my finger to it.
The way she would figure out,
What I wanted to say.
Her ways, her walk,
Had me enchanted.
Captivated
Hooked all the more
When she spoke
I felt daisies erupt around me
In silence did her fragrance
Lure me so.
There never was darkness with her
Sunshine or moonlight
Kissed my face
With her presence.
Oh when she touched me,
It was exquisite silk.
Comfort, passion, warmth
All at once.
For years she stood with me
A silent companion.
My everlasting strength
A personal prayer.
An enchantress, a witch
A beautiful mystery.
It was magic!
She was my magic.
***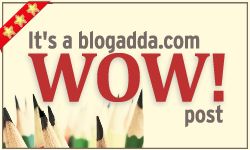 Thank you Team BlogAdda! :)